12 Aug

Bill Gates in China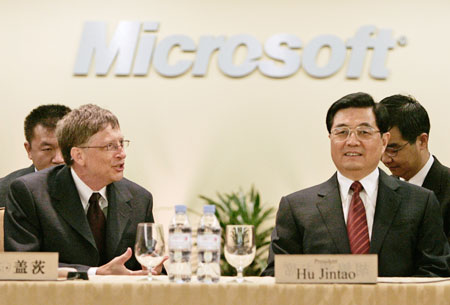 John Wood devotes an entire chapter to Bill Gates in China. The author explains how, after his return from the book delivering trip to Nepal, he is consumed with preparations for the Big Boss's visit to Beijing. It's interesting to learn the truth, that communist China wasn't purely communist and that in fact, "The level of enthusiasm the Chinese had for the world's greatest capitalist spoke volumes. In one generation, the Chinese had gone from viewing a person like Bill as a "running dog of capitalism" to elbowing each other out of the way to get their photo taken with him."
Much detail is given of Wood's role in preparing for the visit, particularly his many meetings with the television news personality, Shui Junyi, a hugely popular journalist who would be interviewing Mr. Gates. With little knowledge of Chinese media, Wood manages to strike a cord with Junyi (a big technology fan himself) and the two practice Q and A's that might serve to highlight the great investment Microsoft has put into China (99% of Microsoft China's employees were Chinese natives) while diminishing the company as an imperialistic American one. The two men even meet for dinner and wine and toast their "Chinese version of Microsoft" over cognac.
The only problem? Bill Gates doesn't cooperate. He arrives disheveled and uninterested and worse, does not provide practiced answers that might please the Chinese media. Instead Mr. Gates is curt and vague about the money being invested in China. John Wood is incredulous and disappointed. Still, he does include a special "box" of facts called "Bill's Batboy" in which he does pay Mr. Gates great respect. "Despite the demotivation inherent in Bill's China visit, I can't help but respect him." Why? Because he acknowledges Microsoft provided him with a huge safety net of wealth that allowed him to leave the company to start his own charity. He also mentions the work that Bill Gates and wife, Melinda, do through the Gates Foundation. He also pays thanks to the management and leadership skills he gained with the company.
I like Wood's straight forward approach and I appreciate his honesty. Again, I think it's necessary in a memoir…yet…I do marvel a little at the ease with which he slings mud…just saying.
I'm interested to see who might get hit next on Wood's path to establishing a very successful charitable foundation.
Cheers!
Shannon