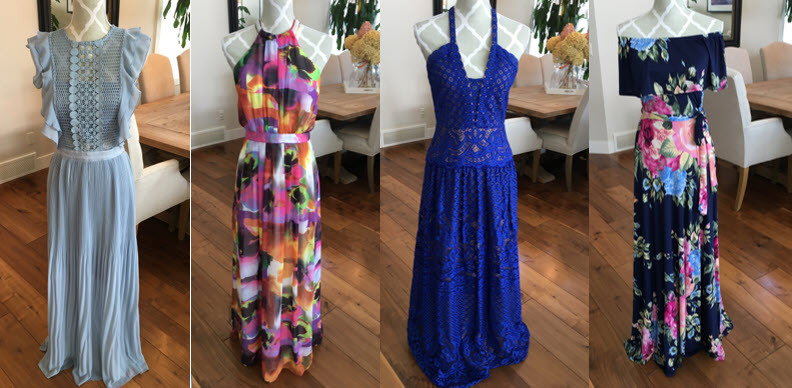 15 Dec

Say Yes to the Rental Dress

It's the most wonderful time of the year—unless you're a woman with nothing to wear.

Parties are in full swing and you'd love to be of good cheer, but it's hard to jingle all the way without the right dress.

Festive fashion—the pressure is real.

Along with decorating your home, making memorable meals, hosting family and friends, shopping for and wrapping gifts, attending Christmas concerts… the list goes on…we are expected to look our best.

It's hard to fit in shopping for an outfit, never mind fitting into it, with all the sugarplums and figgy pudding going around. And it's hard to justify spending a fortune on something you'll rarely—if ever—wear again.

It's a Christmas conundrum, but let me introduce you to a local entrepreneur with a closet full of pretty answers.

Her name is Alyssa Regier and her home-based business is called GlamLend. Put simply, it's rent-a-dress.

With an inventory of more than 700 dresses, Regier has everything from wedding gowns to formal and garden party wear. Dresses are individually priced, ranging from $25 to $75 for three to five-day rentals. Special rates are available for vacations.

 "I struggle to dress up, it's not a natural thing for me," she says, noting most of her clothes are casual. "I borrow outfits from all my friends."

It was the trading of attire that led Regier to reimagine the way we acquire our wardrobes.  "I thought, I can't be the only one who struggles with this.Why isn't there a place we can all borrow?"

Joking that she is the perfect target for her own business, Regier took the leap and opened the doors to her dress-lending business in the spring of 2019. She's built an inventory through donations, scouring Facebook Marketplace, Castanet, and other sites, for new and used attire.

Racks of dresses hang from the basement walls in her Dilworth Mountain home. Two curtained changerooms with cute mirrors allow women to comfortably try on their choices. Customers can peruse inventory, chat with one another and contact Regier for information and appointments, via the GlamLend Facebook page (@glamlend).

If finding the perfect dress is stress-free, returning it is easy-peasy. Borrowers pull up to Regier's home and plop their outfits in a Rubbermaid container at the front door. Regier takes care of the cleaning.

Unique, affordable and sustainable, GlamLend is a solution for all seasons.

Invited to a wedding and reluctant to buy a fancy dress? Or maybe you're the bride, looking for a once-in-a-lifetime gown. Instead of parting with the kind of cash that could buy you a honeymoon in the Bahamas, say I do to GlamLend.

A grad with multiple formals this year? GlamLend's got you. Pregnant and your dress size changes like the weather? GlamLend has your baby bump covered.

Maybe you're going to a murder mystery party and you need to look like Miss Scarlet. GlamLend has dresses to get you into character without killing your budget.

Perhaps you're like many of Regier's clients. You're on a weight-loss journey. You don't want to invest in a size you won't be wearing forever, but your partner's office party is around the corner. Imagine finding a gorgeous dress that makes you feel beautiful, but it won't be hanging in your closet six months from now, when it doesn't fit.

We all feel good when we look good. Fashion plays a huge role in how we see and present ourselves. The industry isn't going away, but it is evolving.

According to a United Nations study, the fashion industry consumes more energy than the airline and shipping industries combined. Fast fashion, in which items are mass produced in places like China and are so cheap to buy, they become single-use purchases, has created a wear it today, throw it out tomorrow culture. Discarded garments are clogging our landfills and that's bad news for Mother Earth.

 Buying second-hand or renting a dress goes a long way toward sustainability. "I'm giving people another option," Regier proudly says.

Still not sure? Let me share my own story. After interviewing Regier, she suggested I try on a few dresses. A stunning, red lace number fit me perfectly. I wore it to a Christmas party this week and as the compliments rolled in, I simply smiled and said, "Thank-you! I rented it."

I felt like a million bucks, but I spent about twenty. Regier says that's the kind of thing that makes her Christmas bright.

"It's a hostile world in many ways, but GlamLend reminds me how awesome people are. I've made connections with so many women. Maybe it's something to do with getting undressed in someone's basement that makes them open up," she says laughing. "But people hug me when they leave. They go from being depressed to excited to go to their husband's Christmas party. It's a feeling of community. We're all doing our best, just trying to get along."

Isn't that what the festive season is all about?

Merry Christmas to all my readers and the very best in 2020.