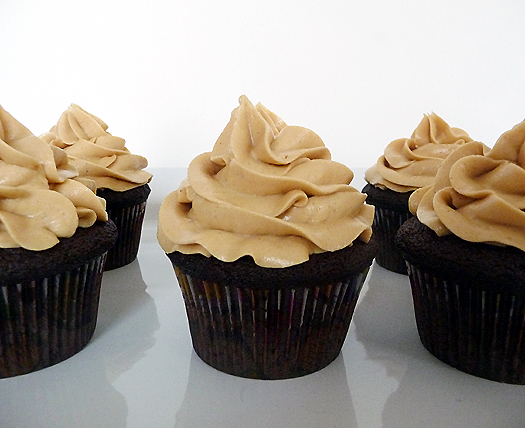 05 Jul

Dark Chocolate Cupcakes with Peanut Butter Frosting: From BEB
(photo & recipe credit: browneyedbaker.com)
My friends know it. My family certainly knows it (& both loves and resents me for it), but I adore baking. I'm not sure if it's because I grew up in a house where beautifully baked cookies or crumbling cake oozing icing regularly adorned our kitchen or if I just have a secret sweet tooth that begs to be soothed–often–but I enjoy the process of creating tasty treats and I enjoy eating them even more 🙂 Of course it means we all have to run a little further or hit the weights a little harder that week, but it's well worth it!
That's why I'm thrilled to have discovered my new favourite food blog: Brown eyed Baker or BEB. On a regular basis I can be found perusing Michelle's site. Cake is my constant craving and since I'm a peanut butter and chocolate fan (separate or better, together!) when I came across the recipe for these cupcakes, I knew I had to try them. I've actually made them twice now and trust me, they are worth the extra effort the cake part takes….or you could just skip the cupcakes and go right to the icing. Gail said it's the best she's ever had and I had to share the recipe.
Well, if Gail wants to pop by, I could put on a pot of coffee (or open a bottle of wine) and pull out my freezer drawer…the icing recipe is generous and with a good cup left over, I couldn't bring myself to toss it out. I scooped it into a container and froze it. I had some for dessert after lunch today. It's that good.
Dark Chocolate Cupcakes
Yield: 12 cupcakes
Prep Time: 30 minutes (active), 45 minutes (inactive)
Cook Time: 18-20 minutes
Total Time: 50 minutes
Ingredients:
For the Cupcakes:
8 tablespoons (1 stick) unsalted butter, cut into 4 pieces
2 ounces bittersweet chocolate, chopped
½ cup (1.5 ounces) Dutch-processed cocoa powder
¾ cup (3.75 ounces) all-purpose flour
½ teaspoon baking soda
¾ teaspoon baking powder
2 eggs
¾ cup (5.25 ounces) granulated sugar
1 teaspoon vanilla extract
½ teaspoon table salt
½ cup (4 ounces) sour cream
For the Peanut Butter Frosting:
1 cup confectioners' sugar
1 cup creamy peanut butter
5 tablespoons unsalted butter, at room temperature
¾ teaspoon vanilla extract
¼ teaspoon kosher salt
1/3 cup heavy cream
Directions:
1. To make the Cupcakes: Adjust oven rack to lower-middle position and preheat to 350 degrees F. (If you are using a non-stick muffin pan, heat the oven to 325 degrees F.) Line standard-size muffin pan with baking cup liners.
2. Combine butter, chocolate, and cocoa in medium heatproof bowl. Set bowl over saucepan containing barely simmering water; heat mixture until butter and chocolate are melted and whisk until smooth and combined. (Alternately, you can microwave the mixture at 50% power, stirring every 30 seconds until completely melted.) Set aside to cool until just warm to the touch.
3. Whisk flour, baking soda, and baking powder in small bowl to combine.
4. Whisk eggs in second medium bowl to combine; add sugar, vanilla, and salt until fully incorporated. Add cooled chocolate mixture and whisk until combined. Sift about one-third of flour mixture over chocolate mixture and whisk until combined; whisk in sour cream until combined, then sift remaining flour mixture over and whisk until batter is homogeneous and thick.
5. Divide the batter evenly among muffin pan cups. Bake until skewer inserted into center of cupcakes comes out clean, 18 to 20 minutes.
6. Cool cupcakes in muffin pan on wire rack until cool enough to handle, about 15 minutes. Carefully lift each cupcake from muffin pan and set on wire rack. Cool to room temperature before icing, about 30 minutes.
7. To make the Peanut Butter Frosting: Place the confectioners' sugar, peanut butter, butter, vanilla and salt in the bowl of an electric mixer fitted with a paddle attachment. Mix on medium-low speed until creamy, scraping down the bowl with a rubber spatula as you work. Add the cream and beat on high speed until the mixture is light and smooth.
(Dark Chocolate Cupcakes recipe adapted from Cook's Illustrated
, Peanut Butter Frosting recipe from Barefoot Contessa at Home
by Ina Garten)