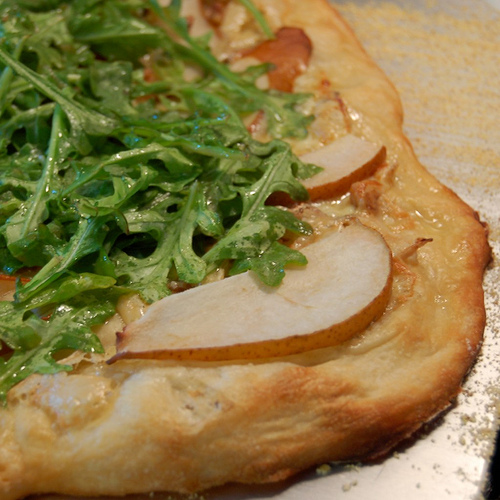 22 Oct

Pear & Cambozola Pizza (Only with Apples & Figs)

LOL'er, Laurie, hosted our last meeting to discuss the Housemaid's Daughter. She served up this outstanding pizza, substituting apples for the pears & adding thinly sliced figs. It was SO delicious. Courtesy of the Best of Bridge, Best of the Best book, this is a perfect book club treat–along with some sumptuous sips of Okanagan wine, of course.
Pear and Cambozola Pizza (Or Apple Figs and Brie) Pizza
What You Need:
12 inch thin pizza crust (look for a deli made one to save time;  Valorosa in Kelowna makes insanely delicious pizza crusts, ready to bake!)
olive oil to brush on crust (sprinkle edges with oregano)
14 oz. can of pears drained and sliced into thin strips
2 tbsp. pine nuts
3 oz cambozola sliced or crumbled
freshly ground pepper
some arugula thrown on top is nice
What You Do:
Preheat oven to 450 degrees.  Brush crust with olive oil, arrange pears on crust in pinwheel pattern, sprinkle with pine nuts.  Top with cheese and sprinkle of pepper.  Bake 10-15 minutes until crust is golden.
Another good idea: Saute apples in butter with brown sugar.  Sprinkle with cinnamon.  Dot pizza with broken pieces of Brie cheese, arrange apples on top and sprinkle  with chopped walnuts and