02 Jan

Precious Times at the Peaks
Happy New Year and welcome back to the Ladies on Literature blog. I enjoyed a lovely holiday with family, followed by a week of sun-kissed skies and snow-covered mountains @ Sun Peaks Ski Resort. The alpine offered up powder, the Nordic trails were well-groomed, and the weather happily cooperative, sending snow by night; sunshine by day for much of the week.
But our time up at our little condo on the mountain was not so much about the snow but the company. Time spent with family and friends is precious, never to be taken for granted. And that point hit home near the end of our week.
A long time alpine skier, looking to change things (including my thighs), last season I took up skate skiing.  I'll never forget the first time I put those long, skinny boards on. I'll say this: there is such a thing as too thin. Accustomed to the "fat" skies fit for powder, one push with my leg and I went sliding sideways alright,  falling flat on my face. But I persevered and spent more time on the Nordic trails than the downhill slopes.
Enter 2011-12 season. Puffing and pushing our way mostly uphill toward the McGillivary Lake cabin, my husband commented that my skis didn't seem to have much glide. "Maybe it's not the skis," I huffed.
Deciding we should take a good, long skate ski lesson before our bad habits became shortly ingrained, we booked a two hour slot. Our guide was a gifted instructor; personable, yet professional; super nice and perfectly patient. I learned so much from him, including how little I actually know. It was humbling, watching him glide effortlessly over rolling terrain,  his poles pushing off with precision, his nose, knees, and toes in perfect alignment. He looked like a swan lightly sailing over smooth water, while I was the duck, madly flapping, running along the surface behind him. Yes, it was humbling. But not just the skiing part.
They say it's a small world and this was one of those times of connection that made us contemplate the New Year in a new light. Our instructor has worked in the industry for many, many years, relishing adventure in the outdoors as  a heli-ski guide, a back-country Nordic guide, even a white water rafting guide but tragically, a few years ago, while enjoying a leisurely day of touring with friends, the unthinkable happened. The terrain the three were traveling turned out to be unstable and when the mountain moved a load of snow from its side, all were buried. Two survived.
The man who was lost was a colleague of my husband's, a former schoolmate and fellow back country enthusiast. But he was our instructor's dear friend. It seemed a sign to pay our respects for loved ones–both with us and beyond–and to appreciate the promise of a coming New Year.
Maybe we were meant to take that lesson for more than improvement on the trail; perhaps we needed  guidance in gratitude. Never take a moment's breath–nor those you love–for granted.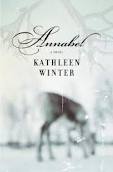 Something author Kathleen Winter makes clear, as we draw nearer to the end of our latest novel, Annabel. Surely search for identity is central to this novel but so is  family; what it means to be part of one, what our place is within one, how strong (and fragile) the ties that bind us. As Wayne has grown into a young man, now living on his own in St. John's, he must survive a unique isolation from society, indeed, a desperate loneliness in order to connect to anyone, mostly himself. The writing continues to be breathtakingly beautiful, the subject matter thought-provoking, as we near the conclusion of this sensitively told story.
We meet @ Judy's, this Wednesday to discuss. I can't wait. Meanwhile, I'm going to sit down to a meal with family as we draw near to the end of our vacation. New Year's at Sun Peaks was  pretty special, with the torchlight descent: a lovely sight as skiers make their way down the mountain in the dark, their glow sticks symbolizing light for the coming year and the grand finale: the fireworks. For more on events @ Sun Peaks, check out Hayden's blog:
http://www.sunpeaksresort.com/blog/
Welcome to a New Year…May 2012 bring you light and love.
Cheers!
Shannon
 Nancy Greene  & Santa (courtesy,Hayden's blog)