06 Feb

Sex & Chocolate Cake: Two Hot Topics @ LOL's Monthly Meeting
Open was Kathy's (on the right) book choice but because Kathy's house is without windows (and floors and some doors), Cindy W (left) kindly offered up her spectacular home to hold this month's LOL meeting. Of course, it was under the condition Kathy provide the food and wine, and did she ever!
Sure, the book is important, but let's be honest, we're there to eat, drink, and laugh out loud! I have requested the following recipes from Kathy:
1) Deviled eggs. Even if you don't like them, you'll love these. They were so yummy and creamy and delectable and here's the best part, the recipe is from a well-known, Canadian….low-fat, healthy…cookbook! Keep checking in for updates to the LOL Recipes tab.
2) Ribs. No idea what she did but, they were melt-in-your-mouth delicious and not too messy either!
3) Chocolate Cake. It's now become mandatory that dessert be served at our meetings, and this cake was so, so good…so good, I had to tease absent member, Vikki (a dear friend and fellow chocolate craver) with a photo of what she missed. "You are evil," she replied upon receiving this shot at work. "Well", I responded, "I did detect a note of Devil's food in the flavor and the icing was sinfully dark and rich."
So now that you're hungry, here's the low-down on the book. The consensus: truly a good and worthwhile read. Maybe a little long, nonetheless, a fascinating look at the world of competitive tennis and moreover, more than a sneak peak into the private life of a superstar athlete. Candid, witty, gritty-real, Andre Agassi is entirely Open about his rise to fame, his frequent falls from grace (including a dark time wrought with depression and drug abuse), and his love life…and here's where the conversation took an interesting turn!
Take a look at the About LOL tab and you'll be reminded, we talk more than literature…what's a good yack without a little gossip and a little…sex. The big question of the night (at least on my corner of the couch) revolved around Agassi and Barbra Streisand. Very good friends, they spent a great deal of time together at one point in the tennis star's life. Vacation time, time at Andre's, she was in his box at tourneys…there was a strongly implied intimacy and deep understanding between the two as they shared a certain shyness and insecurity about their fame. I took for granted it was a love affair, as did Laura, but KP said, "No way! They were just friends!" Vikki said this: "You naughty, naughty ladies. That never even occurred to me." Ruth (or was it Kathy?) pointed out the Barbra (and Brooke Shields, btw) is mentioned in the back among the folks who did a read-thru of this book before it hit the shelves, so she was obviously comfortable with what was said…and maybe not said!
Some expressed shock…"She's got to be 25 years older than him!" to which Laurie replied, "Yes, but if it was an older man and a younger woman, we wouldn't be so surprised."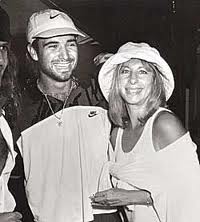 So, I ask you, readers, what do you think? Were Andre and Barbra friends…with benefits?  It intrigues me so much, I'm going to take a little LOL poll to get an official count on this one.
I'll get back to you on this and…our next book! Check in on Wednesday to find out what LOL is reading this month.
Cheers!
Shannon