17 Feb

Viva Vegas on Free-For-All-Friday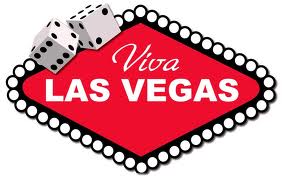 I love Fridays, although sometimes I wonder why. I'm not sure having my kids lounge about or demand rides to the mall, movie theater, and friends' houses is actually a break, and with a husband who is a shift worker, it's not like Saturday and Sunday scream celebration. Still, the atmosphere is a little lighter out there as most of the world prepares for the weekend.
For me and everyone else who loves bright and sparkly things and a good stiff drink, there is a place where everyday of the week spells fun; a place where the party is on everyday, all day, all night…yah, you know it. Las Vegas.
I went for the first time about 18 years ago but I'll never forget my initial impression. I was mid teaching practicum (in my former life I taught elementary school) and my husband–bless his romantic heart–was down with a bunch of buddies but being newlyweds, he missed me! So he called and told me to get on a plane and join the guys.
I was overwhelmed with the fun at the casino. I'm not much of a gambler but I do enjoy those slots. There's just something so satisfying about pulling that little lever down and watching the three columns of colour spin, your heart beginning to pick up pace as the machine slows down. I recall winning a whopping $40 or so (which at a .$25 a spin meant I'd been cruising the casino for a while) and exiting while I was still up. Back then you carried a cup of coins around with you and there was no just-press-the-button- style slots. Personally I think some of the satisfaction is lost in the technology now as you put in your bills  and out comes a printed receipt with your remaining total.
I remember seeing a show. Tommy,  featuring actors in cute clothes whizzing around the sloped stage in roller skates to the music of The Who. I know we ate well and danced all night. I don't remember a whole lot else (except what I wore on the plane…I know…weird…but I have this uncanny ability to recall outfits for various occasions).
Since then I've been a bunch of times, with kids, with just girlfriends, with just my husband. This go was with my very good friend from Calgary, Lane. Our objectives were simple: get good dresses cheap (Ross) eat great food without regard for prices (we nearly always split a meals anyway) drink whatever we pleased (beer or Sangria for Lane, wine or caramel apple martinis for me), lay by the pool (I never did), hit the gym (only happened once), and read our books (mission accomplished).
We stayed at the Trump Hotel–a very nice establishment with fantastic service but a little dull if you're there for the sparkle and party (which, as mentioned, I love). With no casino, it's smoke-free, which we greatly appreciated but it's awfully quiet, except for that train that whistled and chugged loudly by at 4 am every morning. Who knew there were trains in Vegas? Not moi. Positioned next to an empty lot, just off the strip, our other big concern with the hotel was the lack of safety for two girls hobbling home in heels well after midnight.
My husband surprised me this summer with a birthday trip to Sin City and we stayed at the Venetian… now there's a twinkling hotel. Lane and her hubby stayed at the Belagio…now there's another twinkly place. Both fun, busy, classy, and very Vegas.
A highlight of the trip was our last night, spent having a drink with an old high school friend of mine, now a manager @ Caesar's (thanks, JP!) followed by the Elton John concert. He was incredible and the venue, superb. At Caesar's, where our Canadian darling, Celine Dion plays (along with upcoming Shania Twain), there isn't a bad seat in the house and the sound system and stage, amazing!
It was my second Elton John experience. I saw him in Dubai about 8 years ago. Just him and his piano, on a stage, out in the middle of a field near the airport. We stood around with buckets of beer, our mouths open in awe–that or song. Seeing him in Vegas, with his back-up singers and big band, and flashy piano and lights and screen show, was an entirely different experience, very sparkly; very Vegas.
And really, isn't that what you go for?
Have a great weekend. See you for more on the LOL's latest novel, Spanish Fly, on Monday.
Cheers!
Shannon